Today's decorations are the raw material for tomorrow's decorations
Securing the supply of raw materials is a major challenge for any equipment manufacturer. Leblanc illuminations is directly concerned: the structure of its decorations is made of aluminum, and the covering is made of composite materials. Materials that must be consumed with reason, taking care to limit their impact on the environment.
In recent years, rising raw material prices have had a direct impact on manufacturers. In addition to increased costs, shortages are also a risk.

At Leblanc Illuminations, solutions are already being implemented to use more sober components and more responsible and reusable raw materials. Thus, thanks to its voluntary approach to limit the environmental impact of its products, Leblanc Illuminations can affirm that its decorations of today constitute in part the raw material of its decorations of tomorrow.
Renting and reusing decorations: an economical and responsible solution for collectivities
Leblanc Illuminations' decorations have been available for rent for many years. In France, more and more collectivities are choosing this solution. Almost half of Leblanc illuminations decorations are now rented. This has several advantages: customers who choose to rent benefit from a renewal of their decorations. After the season, they are stored in the warehouses of Leblanc illuminations, and are tested, repaired and cleaned before being installed again.
Reconditioned decorations, or how to offer professional illuminations at low cost
After a few seasons, some of the decorations are offered for sale at very low prices. Just like the decorations offered for rent, they are of course refurbished before being sold, during the "special offers" operations proposed twice a year by Leblanc illuminations to its professional customers.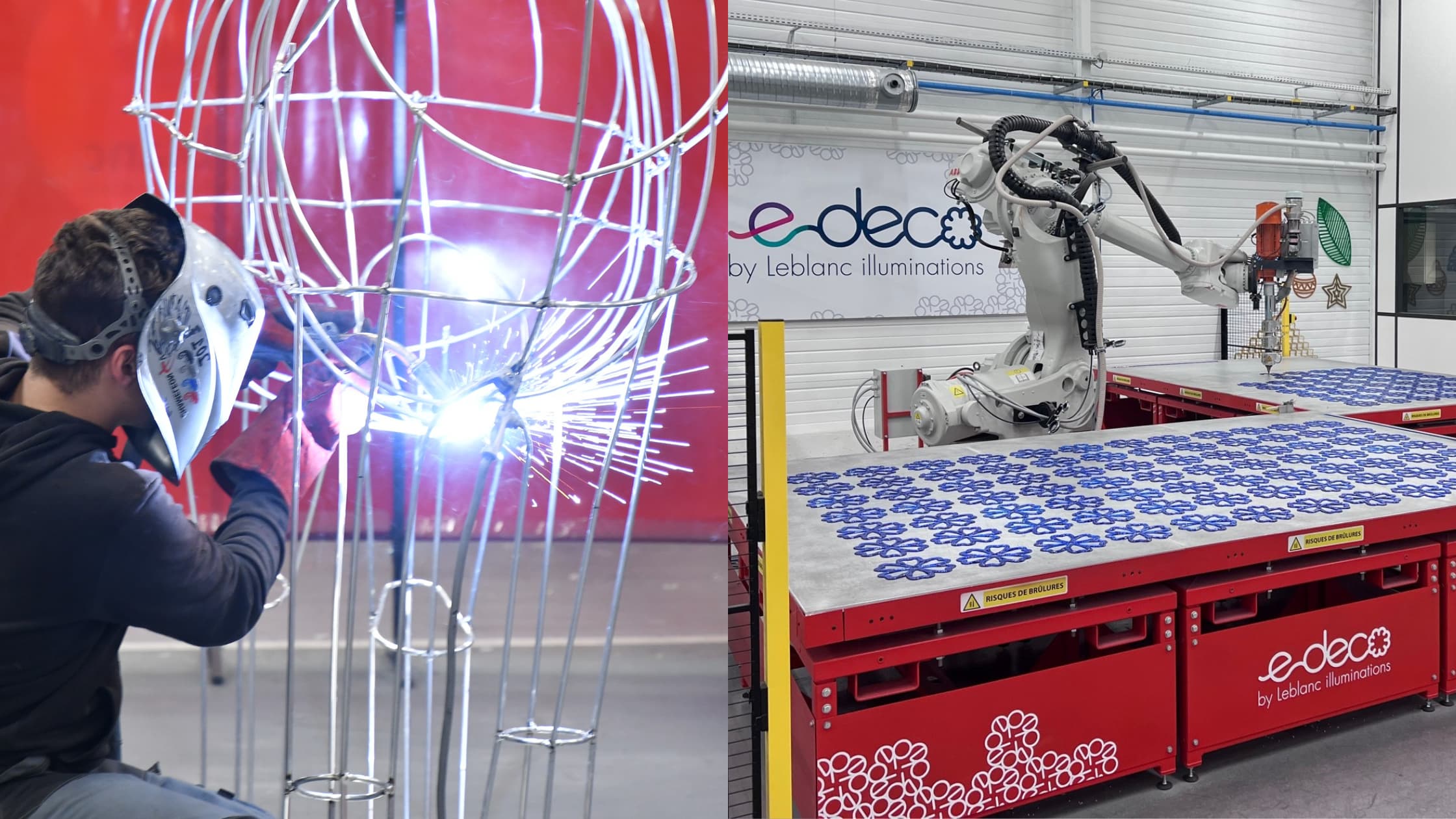 New eco-designed decors with responsible and recyclable materials
The structures of Leblanc illuminations are made of Hydro REDUXA aluminum, a low-carbon aluminum (footprint of only 4 kg Co2/kg of aluminum) because it is produced from renewable energy. Aluminum being infinitely recyclable, all the structural elements of the decorations are recycled through a recycling channel. Thus, at the end of their life, the structures of the decorations become raw material again.
3D printing: a revolutionary process for making decorations with a small environmental footprint
The designs of the decorations are increasingly printed from biosourced, recycled and recyclable materials. For 2 years, Leblanc illuminations has invested in a fleet of robots in its factories. This new technology, called e-deco, allows to print patterns of all colors, translucent or opaque, up to a size of 2m x 2m50. The research and development team has selected materials that are consistent with the company's commitment to limiting the environmental impact of its decorations:
Greenfib :

a 100% biosourced golden material made from castor oil processed in France

Everstar :

ua white composite material created from the recycling of household appliance waste

Rainbow :

a translucent material based on recycled PET that can take all the colors of the rainbow, and that diffuses light.
These 3 materials are recyclable: all production waste, scraps and elements that are dismantled at the end of their life, can be crushed and reused to make new printed decors.
Preserving resources and raw materials is more important than ever. This is why Leblanc illuminations implements these solutions, to accompany its customers in all their events, in the most responsible way possible. It is not by chance that Leblanc illuminations is the most certified company in its sector!