Immerse yourself in the Rugby World Cup!
For the second time in its history, France will host the Rugby World Cup! The global event will take place from September 8 to October 28, 2023, and is expected to attract over 2.6 billion TV viewers. A total of 24 international teams from the four corners of the globe will be welcomed to the 10 host cities: Nantes, Nice, Saint-Etienne, Saint-Denis, Bordeaux, Lyon, Toulouse, Lille, Marseille and, of course, Paris.

The Rugby World Cup is a world-class sporting event that brings together millions of fans in a frenzied atmosphere. As a company, theme park or city this is an opportunity not to be missed to create a festive atmosphere and celebrate this eagerly-awaited competition!
Specializing in luminous decorations and 3D-printed decorations, Leblanc illuminations offers you a special e-deco collection, inspired by the Rugby World Cup!
Celebrate the competition with our unique decors!
It's the perfect time to take advantage of our decorations and create an original atmosphere. Leblanc illuminations is delighted to present its exclusive collection of Rugby World Cup-themed decorations. Dress up your streets, your company or your park with the motifs and colors of your favorite team. Our arches, frames and suspensions will bring originality and animation to your spaces.
Boost your business with our collection
Associating your establishment with a popular event is always an excellent way of reinforcing your brand image. For shops, restaurants or hotels, the decorations offered by Leblanc illuminations are ideal for embellishing your shop window during the Rugby World Cup. The arches and suspensions can be used to decorate the interior of your establishment or to adorn the entrance to your store.

Set yourself apart from your competitors and create a welcoming, attractive atmosphere for your visitors!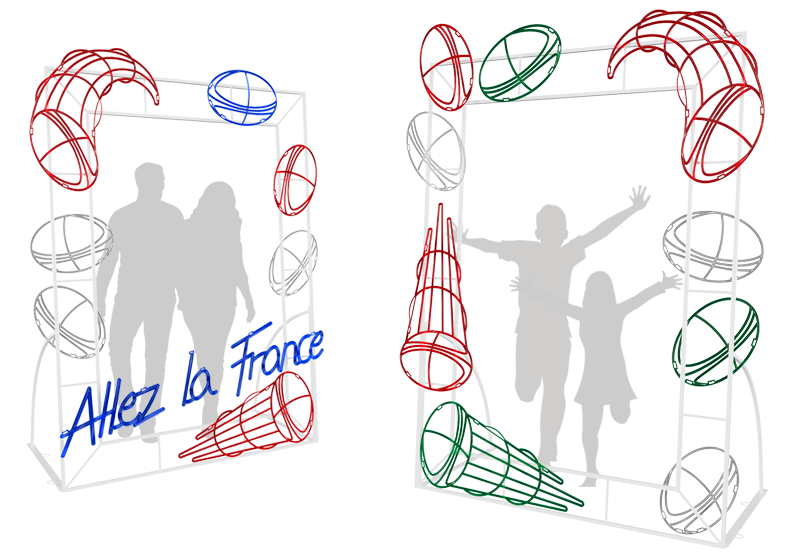 An ideal way to liven up your town
For cities and towns, opt for e-deco decorations to liven up your city streets during the Rugby World Cup. Our arches and suspensions will be perfect for breathing new life into your facades and creating a festive atmosphere. You can also use our frames to dress up public spaces and parks, creating a warm and interactive environment for residents and visitors alike. Let our decors enchant your city and celebrate the spirit of rugby at this unforgettable global event.
e-deco: a sustainable, innovative solution
Leblanc illuminations creates all its e-deco collections using innovative, eco-responsible printing technology. Magnificent decors are designed by robots from bio-sourced, recycled and recyclable materials. Our collections offer a wide choice of patterns and colors to match any event throughout the year.
Leblanc illuminations, unique expertise
We attach great importance to the quality of our products, and work with eco-responsible materials, ensuring the durability of our decorations and their resistance to the elements. Our teams of professionals are ready to listen to your needs and help you design unique and original decors, specially imagined for your event.
Our sales team is on hand to help you choose the decors best suited to your space. Get inspired by downloading the brochure to access our entire e-deco saisons offer!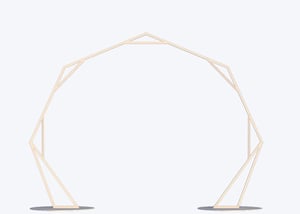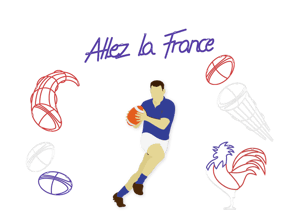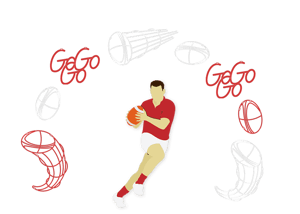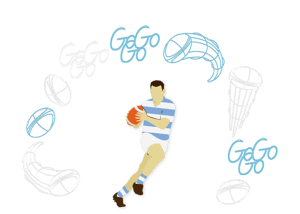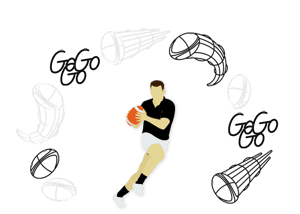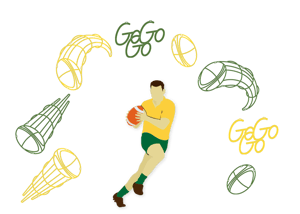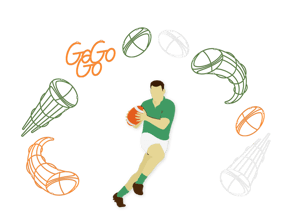 Personalize your arch with your team's colors!